Sél. OH-LALA des Monts d'en Crauzille
Those we love don't go away,
they walk beside us every day.
Unseen, unheard, but always near,
still loved, still misse and very dear.
---
Sélectionnée France 1999, Italy 2001
HD 0/0, CEA/FD/PHTVL/PHPV/PRA/CATARACT clear, ERG clear, CSNB Carrier * full breeding confirmation in France, Italy, Austria
January 23, 1998 (France) to April 14, 2010, 3:50 p.m.
Sire: IATUS des Sources des Fontassault (Pré-Sélectionné France)
Dam: PENELOPE du Clos des Cèdres (confirmée France)
Oh-Lala came to us shortly before her third birthday. We heard about that the breeder of our Zabou wanted to place this girl, and immediately asked her, if she could come here. Pascale actually did not want to give her to a breeder, as she was CSNB carrier, but because she heard that we test our puppies if one of the parents has this "gene defect" , she said yes. Therewith, an over years wish turned to become true: for a long time we had already wanted a grey Briard puppy, and now we got a grownup girl which was HD clear, which had passed the French Selection und which had the full breeding confirmation (at Pascale she had already had two litters).
On December 14, 2000, we went off to Belgium to pick up Oh-Lala. We had already seen some photos from her, but life outstripped everything: dreamlike character, cuddly, funny, perfect standard size, ....., at the first meet she did as if we knew each other forever, just a dreamlike girl. One night we spent together in Belgium, then we travelled back home with Oh-Lala. Everything was perfect, no hesitating to get into our car, rests during the trip, and having reached home she went for a walk without lead and coming back immediately when called.
We had expected that we have to keep Oh-Lala separated from our at that time highly pregnant Yazoo, but this was wrong. From the first moment they contacted each other totally friendly and from the first night on they were sleeping together on the bed. And when Yazoo's puppies were three weeks old, Oh-Lala was allowed to join the raising, which really pleased her, and Yazoo enjoyed the deserved rests from her puppies.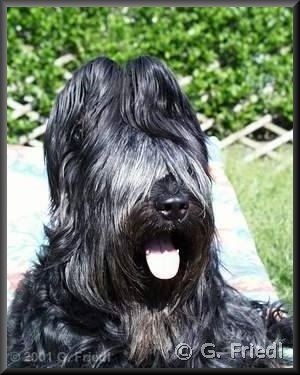 Summer 2001
Oh-Lala met all the conditions for breeding in Austria. In February 2002 we went for mating in Netherlands and in April 2002 we had our G litter from Oh-Lala. A second try to have a litter with her, failed: unfortunately she had a miscarriage after our Frizzy in autumn 2005, and we have not made another try, as we wanted to breed with Zabou (not foreseeing that she would be infected at her first mating with "incurable" bacteria, and that we would, therewith, be confronted with major difficulty).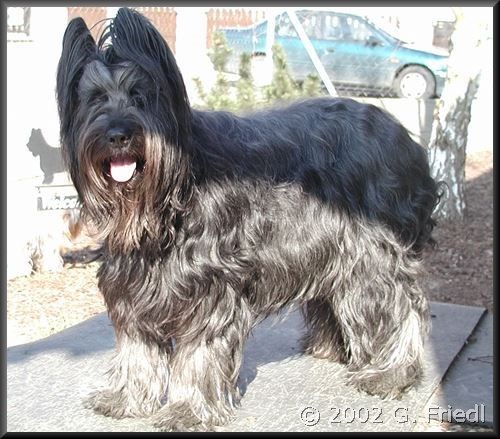 Oh-Lala has not been shown very often by us, as in the time when she was in the best age for the show ring, we were not seen much at shows, but whenever she was in the ring she came out with excellent results. In October 2001 she was at the Italian Selection and National Specialty together with Yazoo and came back home with a brilliant result: she did not only turn to be best of all presented dogs concerning character, but also came out of the ring with Exc.3 among 11 fawn bitches (she had been put to the fawns by the show committee as by mistake her pedigree says she is grey although she was born black).
| | | |
| --- | --- | --- |
| | | |
| Selection Italy October 2001 | Club show Austria May 2004 | Club show Austria May 2005 |
Even when Oh-Lala was aged, nobody realized, she enjoyed life so much until shortly before she left us, she played with the others and especially loved to play with pups and small breeds. She was a most wonderful playmate for all our litters, also the Chinese Cresteds and Yorkies. They loved to toll up and down on her and have fun with that girl. She leaves a big hole for all the future pups. We still can't believe she is gone, it was so unexpected.
We thank Pascale from the deepness of our hearts that she handed over this girl to us. She was an enrichment for our family and we don't want to miss any of the days during the past more nearly eight years with Oh-Lala. And thanks to Oh-Lala for all the love, happiness and fun as well as success she brought to this home. We will never ever forget her, we miss her so very much ......
---
Oh-Lala's special success:
04/08/2002 - Oh-Lala whelps the G litter of our kennel de la Maison du Garde-Barrière
10/14/2001 - Oh-Lala is Exc.3 among 11 fawn bitches at the National Specialty in Italy (Judgement - Selection Diploma)
10/13/2001 - Oh-Lala is Sélectionnée cot. 3 in Italy, 29/30 character points - therewith Best of all presented dogs (Judgement)
00/00/2000 - Oh-Lala whelps her second litter (for the kennel du Noble Nid)
11/13/1999 - Oh-Lala whelps her first litter (for the kennel du Noble Nid)
09/11/1999 - Oh-Lala is Sélectionnée in France with excellent (Judgement)
09/11/1999 - Oh-Lala is excellent at the charakter test at the French Selection, 20/20 points (Judgement)
08/18/1999 - Oh-Lala is CEA/FD/PHTVL/PHPV/PRA/CATARACT/ERG clear

03/09/1999 - Oh-Lala is HD 0/0